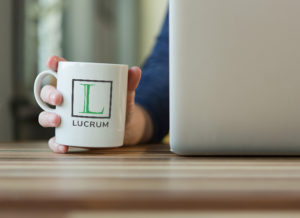 In our ongoing engagement with Lucrum Consulting, it was agreed that a brand refresh was in order. Eleven Mass Media put together a package that maintained Lucurm's original identity designed by Taylor Heybruck, while incorporating clean lines and a recognizable mark, usable in any context. As Lucrum grew its Fractional CFO Services business online, their brand needed to reflect a web-savvy presence.
Lucrum's refreshed branding has already served them well being incorporated on their website, collateral items, stationery and more. Carried through from the design of their brand, Eleven Mass Media has also crafted a new logline for their business:
Many business owners can't afford a full time CFO, and they make costly decisions on bad information. We came up with an affordable way to manage the finances for them while teaching them what they need to know. This lets them lead their teams and grow their business with confidence.
Carefully explaining their target audience, value proposition, and success metric, this logline is present wherever Lucrum goes.